Crea AT is the exclusive Single Vision Free Form Design provided by ProCrea.
Based on the WFRT® Technology, it minimizes oblique errors to give clear vision on every gaze direction.
Thanks to the special form of the surface, final lenses result thinner and lighter, even compared to traditional aspheric designs.
Noticeable improvement will be noted by users with high prescriptions or in case of special frames, such as sport glasses, where higher base curves are needed.
Personalization parameters, including user data and frame specifications, are required to achieve a compensated prescription and the maximum performance.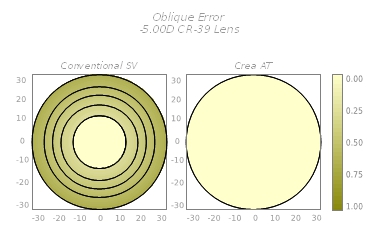 Design Features
High-End Design
Oblique Errors Minimization
Ideal for High Plus & Minus Prescriptions
Technical Specifications

| | |
| --- | --- |
| Market Segment | High-end product |
| Calculation Technology | WFRT |
| Allowed Materials | All |
| Personalization | Yes |
| Precalibration | Yes |