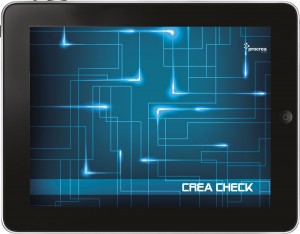 It is an application to facilitate the video centring, on iPad/Tablet/ other multimedial support, on technical parameters.
The app was improve and with local Database  to make possible to each user to take a pictures to their customers (or preload) an to take the parameters. It is possible to complete the process with the customer and to send in tht moment the order or archive the result (in order to send the order in other moment).
The Database, allows to split files into folders distinguishable for master data.
With Crea CHECK  it is possible to take all the parameters to order progressive lenses, that is:
・Monocular pupillary distance;
・Minimum fitting heght;
・Pantoscopic angle;
・Back vertex distance
FURTHER NOWADAY THE VERSION 3.0 allows: 
・Take photos and to take the parameters (in the same moment or later);
・To measure the frame wrap;
・Calculate the diameter of the lens;
・To measure the inclination of the device in order to avoid errors during the centrating;
・To measure an unintentional rotation of the head and correct it;
・To save all the parameters of the client in a DATABASE;
・Direct and simply connection with all the company applications (if existing) to send the orders.
・To proceed with the detection of the centering without the aid of external server and without any wifi connection or card.
Crea CHECK  deletes all the possible mesurment errors thanks to the tilt detector, which it  is activated the the optician is going to take the picture to its customer and to the correction of the rotation of the head. The optician can take all the paramters and send its to the department of production of the company.